Certified MBSR Teacher and Teacher Trainer
About Janet
Janet Curry, MA, MSt, LPC, Certified MBSR Teacher 
and Teacher Trainer, founded Stillpoint in 2006 as a private practice offering counseling and Mindfulness-Based training programs based in Durango, CO in the Four Corners region. She trains students across North America and Europe.
Janet is an experienced Licensed Professional Counselor in Colorado; she received her Master's degree in Mental Health Counseling from Seattle University and her BA from Williams College.  An ardent practitioner, student and teacher of Mindfulness-Based Programs, in 2018 Janet completed a second Master's degree program in Mindfulness-Based Cognitive Therapy (MBCT) at the University of Oxford in the United Kingdom, from which she graduated with their highest mark of 'Distinction.'
One of the first 100-plus Mindfulness-Based Stress Reduction (MBSR) teachers globally to have been certified by the University of Massachusetts Medical School's Center for Mindfulness (CFM) in Medicine, Health Care and Society, Janet was also chosen to be one of 30 Certified MBSR teachers from around the world to complete the CFM's first and only 'Train the  Trainer' program.  She is a Certified MBSR Teacher Trainer with the CFM and the Mindfulness Center at Brown University (MC@B).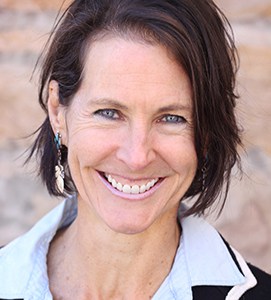 Trauma treatment is an area of personal passion and expertise.  Janet is fully trained in EMDR (Eye Movement Desensitization & Reprocessing), and has twice completed the Certificate Program in Traumatic Stress Studies with the Trauma Center at Justice Resource Institute led by world-renowned trauma expert Dr. Bessel van der Kolk, MD.  She has also completed the 1st year's training in Somatic Experiencing, a somatic treatment approach for resolving trauma.  She brings her expertise in Trauma-Sensitive Mindfulness to the community through presentations and workshops.
Before moving to Durango and opening Stillpoint in 2006, Janet began her work at a Seattle community mental health clinic. Since then, she has supported clients coping with a wide variety of mental/emotional and physical health challenges and conditions, including depression, anxiety, trauma, grief and loss, cancer, and other forms of chronic and acute illness. She has taught over 40 Mindfulness-Based courses (MBSR & MBCT) in person and online, to students ranging in age from 21 to 84.
Janet began her first-person investigation of meditation at age 16, when she enrolled in a course in Transcendental Meditation in her hometown of Kansas City. Ten years later, she fell in love with yoga, and soon after reading Jon Kabat-Zinn's book on MBSR, "Full Catastrophe Living," she began the practice of mindfulness meditation.  Her work today emerges directly from four decades of personal practice, investigation, and study, as well as the privilege of offering these practices to others.  Her teachers include her two children, ages 21 and 25, her husband of 26 years, and the newest member of the family: Sammie the Rescue Pup.
Counseling
Participating in counseling can be a transformative means of becoming more aware of who you actually are, what you love most, and how to live more out of what's deepest and best in you.
Mindfulness Courses
Explore the variety of courses Janet offers with Stillpoint Mindfulness, including MBSR, MBCT, MBSR Teacher Training, Mindfulness Mentoring, and much more.